Quarter Program
Chinese Language Center offers a quarter program with 4 sessions a year; namely spring, summer, fall, and winter. CLC designs a various types of classes for beginner, intermediate, and advanced learners. Each class includes the training of Chinese listening, speaking, reading, and writing skills. Also, along with non-scheduled cultural activities, our program allows students to experience and explore Taiwanese cultures.
Class hours are 3 hours a day 5 days a week, from Monday to Friday, 15 hours a week in total. The learning hours are regulated by government.

Above the age of 18 or with high school diploma.

Four quarters in a year with a gap month, August, in the middle allowing students to explore the beauty and cultures of Taiwan or join our 3-week learning camp, suitable for beginners. Winter quater is shorter because of Chinese new year vacation, so is the cheaper tuition fee.
The schedule is subject to change without notice.
Students with a need for visa are advised to apply one month before deadline.

The quarter classes start either in the morning or afternoon, 3 hours per day, 15 hours per week. There are 6 levels. Usually one class to each level. Sometimes two to a certain level. The classes of different levels are in the morning or afternoon. The following is the course information: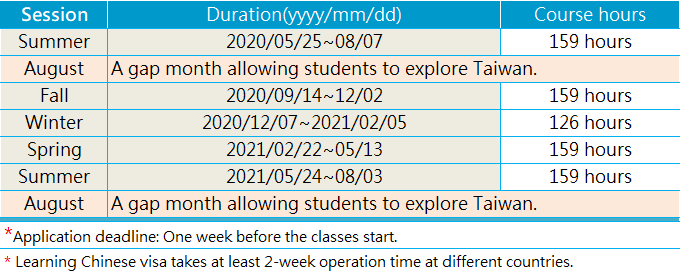 ● Practical Audio-Visual Chinese 新版實用視聽華語
● Far East Everyday Chinese 遠東生活華語
● Practical Chinese Reading and Writing 實用中文讀寫
● Modern Chinese for Thai Learners 現代華語
● Learning Chinese with Newspaper 讀報學華語
● Practical Business Conversation 實用商業會話
● Materials edited by CLC, Soochow University 自編教材


The expense of textbooks, accommodation, and visa is excluded from tuition.
International students and exchange students of Soochow Univ. enjoy a special discount.
Collective enrollment also enjoys a special discount. Contact us for details.

STEP 1 Have the required docoments ready
All applicants check one quarter class only(see the note).
Online application form : Check one quarter only and specify how many quarters you plan to take. Maximum is 8. For Huya Enrichment Scholarship(MOE) applicants, the maximum is 4 and click here to apply online.

Your passport ID page with at least 6-month validity.

A colored 2x2-inch ID photo taken within 3 months.

A photocopy diploma of the highest degree(in Chinese or English only, no need of transcripts).

Proof of your financial statement with at least US$2,000 dated within 3 months. Supporting by parents, guardians, family members, or others, one should enclosed their supporting announcement.
Note: Check only one quarter and when continuing for the 2nd quarter class, you must submit a medical report by then. This report can be done in designated Taipei City Hospitals. See medical report below for details. HES applicants may check up to 4 quarters.
Medical report: By law, one of the two types of meidcal report must be submitted at the end of first quarter:
Attending 2 quarters, i.e. you spend an exact total of 180 days in Taiwan, please download Form C, which comes with (a.) Chest X-Ray for tuberculosis. (b.) Proof of positive measles and rubella antibody titers or measles and rubella immunization certificates. Bring these certificates with you if taken before.
Attending 3 quarters, i.e. you spend more than 180 days in Taiwan, download Health Certificate for Residence Application. More items to be checked.
STEP 2 Application Online
Read the directions and start the process.

STEP 3 More things you should know.
You'll receive a digital admission letter within 7 days if all documents are correct. After reciving the paper letter, apply for a learning Chinese visa to Taiwan.
Failing to register within the first two weeks leads to the cancellation of your admission and accommodation reservation. Limitted exception might be granted for prior notification.

No acception of cutting in the classes after the program has already started for more than a month.

Summer quarter(the month of May to early August) is a time for high demand of accommodation. Send in your application 6 months ahead if you plan to come in summer quarter and need the housing service.
See how our students said about our quarter program.
▲This Japanese student had been attending our Chinese quarter program and became very fluent in Chinese. He was invitied to give a talk at TEDxDongWuU 2015.