Chinese Learning Camp
For the purpose of helping international learners obtain Chinese listening, speaking, reading, and writing skills and, at the same time, experience the beauty of Taiwan, local cultures, and festive attractions, the Center provides Chinese Learning camp to those who are interested in learning Chinese. Each camp is feasible with 12 people or more. The camps are offered in January during winter vacation and July and August in the summer. Students will be divided into different level groups depending on their Chinese proficiency.

16 - 22 years old overseas students interested in Chinese language acquisition.

The 2021 Summer Chinese language camp is open for registration.
Tuition fee: TWD42,000.

Duration: August 8~29, 2021.

Application Deadline: June 30, 2021.

An individual

MOU school student gets a 10% off discount. Need to show your student ID at check-in but no need for MOU group students. More discount policy and other details in the program flyer.

If there are a typhoon land alert and no work or class announcement, the center follows the rule and no make-up class afterward.

Read the program flyer for the conditional operation project.

The classes are 6 hours per day, 5 days per week, and a total of 90 hours in 3 weeks. The general contents are as below: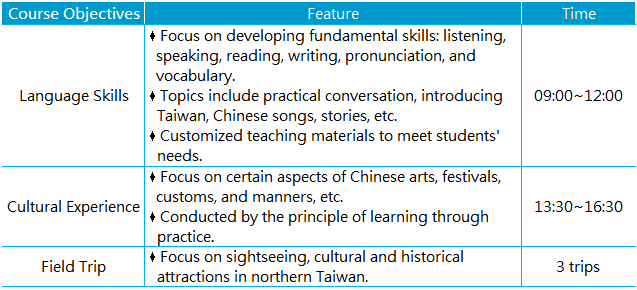 Have your ID photo and passport ready before registration. After completing the online registration, you'll receive a digital admission letter and a flight confirmation form. You need to confirm your flight one month before the class starts. Failure to do so may lead to the cancellation of your right to attend.
For payment, you may wire in advance or pay in TWD cash after arrival.